Welcome! We are the Rose Committee and we want to share our love of everything roses with you. Feel free to comment with any information or inspiration you may have. We are here for everyone from the novice rose grower to the pros.
How it all started and how "almost every home had a rose garden…"
The Sign on Main Street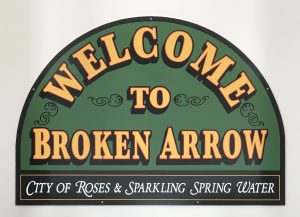 It's true! From the 1920-1950s, this sign stood at the corner of Kenosha and Main Street in Broken Arrow, Okla. Why was Broken Arrow crowned the City of Roses? The local paper in 1924 stated that almost every home "aristocratic or humble" had a rose garden and "perhaps no city in the country could boast so many rose gardens." Indeed, roses were everywhere in flower and in name. Main street was home to the Rose Grocery & Rose Café. The Rose Carnival featured a Rose Parade, a Rose Queen and princesses. The Rose Show (the first of its kind in this part of the country) featured 108 single roses and 72 bouquets!
You can still visit the Sparkling Spring Waters at Ray Harrell Park (pictured below). Sadly, over time they have become a bit muddy.
The Rose District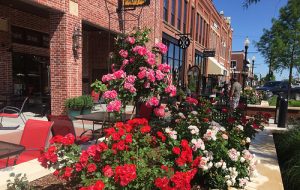 For the last decade, Broken Arrow has embraced this beautiful part of our history. The creation of our award-winning Rose District (rosedistrict.com), the many roses planted throughout the city and the return of the Rose Festival and Rose Show bring countless visitors to our beautiful city.
With Covid-19 keeping us close to home, now would be a wonderful time to bring back that history of "almost every home having a rose garden." While an entire garden may be stressful, why not start with one or two roses? Would you like to join us? Let's fight those gloomy Covid moments by creating beauty in our own yards!
We're the Rose Committee (formally The Bring Back the Roses Committee) of Keep Broken Arrow Beautiful.
Next week: Our Story… Bring Back the Roses and how our City Council and its Downtown Advisory Board created the Rose District.
Watch for future blogs:
Monthly care for your roses. Send us your rose pictures to feature on the blog and Facebook and Instagram pages
How to start a rose garden, advice for the beginner
Videos of planting a rose and rose care
Maintenance: To spray or not to spray
The importance of companion plants and pollinators
Videos of Broken Arrow rose gardeners, from one rose to many. Send us your videos!
Sharing our favorite and most successful roses
Preparing for our annual Rose Show
Updates on all the Rose Committee activities
Answers to your questions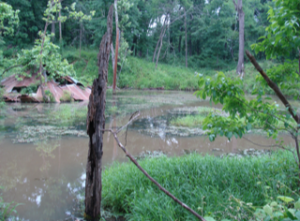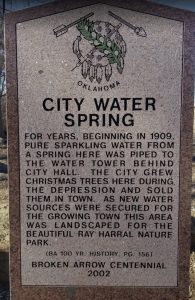 The Sparkling Spring Waters at Ray Harral Nature Park.
The City of Roses & Sparkling Spring Waters sign is on the second floor of the Broken Arrow Museum.