Broken Arrow Rose District      Photo by Timothy Lange
While members of Bring Back the Roses were working hard to bring back "The City of Roses", Broken Arrow City Council and the Downtown Advisory Board were researching ways to discover the best options for revitalizing the downtown area.
 As early as 2005, there were discussions of revitalizing downtown as part of Vision 2025. A Downtown Advisory Board was formed, but with no budget, nothing happened. On Oct. 19, 2010, under the leadership of Mayor Mike Lester, Tax Increment Financing (TIF) was finalized which included a downtown economic development project. Funding made way for the future Arts and Entertainment District.
Councilwoman Jill Norman grew up in the Rose District and remembered the days when downtown was full of shops and activities. When she ran for office her vision was clear: to revitalize Broken Arrow's downtown.  She served as chair of the Downtown Advisory Board from 2010-2015. With her vision and "Let's get this done" attitude, she led the group through the endless decisions that would create our beautiful Rose District. Serving on the DAB were Joe Cook, Kelly Rash, Patsy Terry, Greg Graham, Lee Whelpley, Earnest Redwine, Jo Ellen Clow and Michael Barron.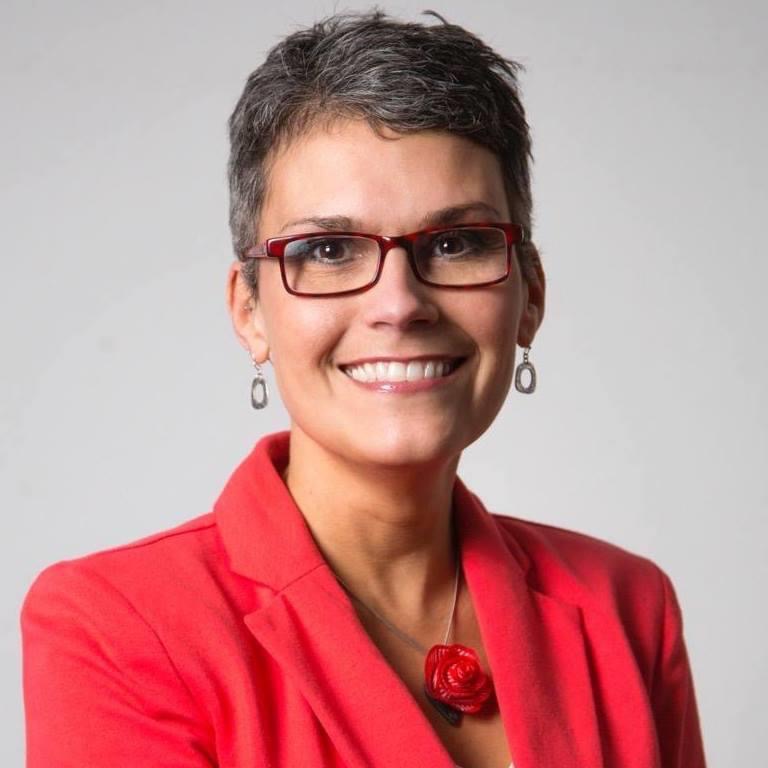 If you like to poke around in history, there are two really great meetings to watch. Click the links below.   Sept. 11, 2012, the DAB discussed five possible names for the new Arts and Entertainment District downtown: Depot District, Red Brick District, Elam District, Old Town or Rose District. Dr. Clarence Oliver, city historian, member of Keep Broken Arrow Beautiful and founding leader of Bring Back the Roses, gives a history of different names including The City of Roses and Sparkling Spring Water.
Go to Video
Oct. 16, 2012, City Council chose The Rose District. This is fun video to watch (look for item G on the agenda) as The Rose District was chosen without a rose in sight or a clear understanding of how this would be created or how roses would be maintained. We owe so much to these leaders who saw the name as modern and fresh and recognized our history as The City of Roses.
Go to Video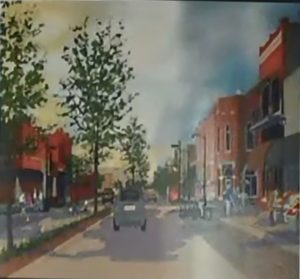 June 14, 2011, Jim Boze, Chair Economic Development Corporation reports that members of the DAB had toured cities with revitalized downtowns:  Grapevine, Texas, McKenna, Texas, Conway, Ark. and North Little Rock, Ark. This first rendering of the future downtown took ideas from all four cities.   Note that Main Street was completely closed to traffic. Parking, parking, parking became a major concern.  
Robert Shears, Landscape Architect was chosen to create the Rose District design featured in this Oct 30, 2012 Tulsa World article.  Note the parking issue was resolved.  Construction began June 10, 2013.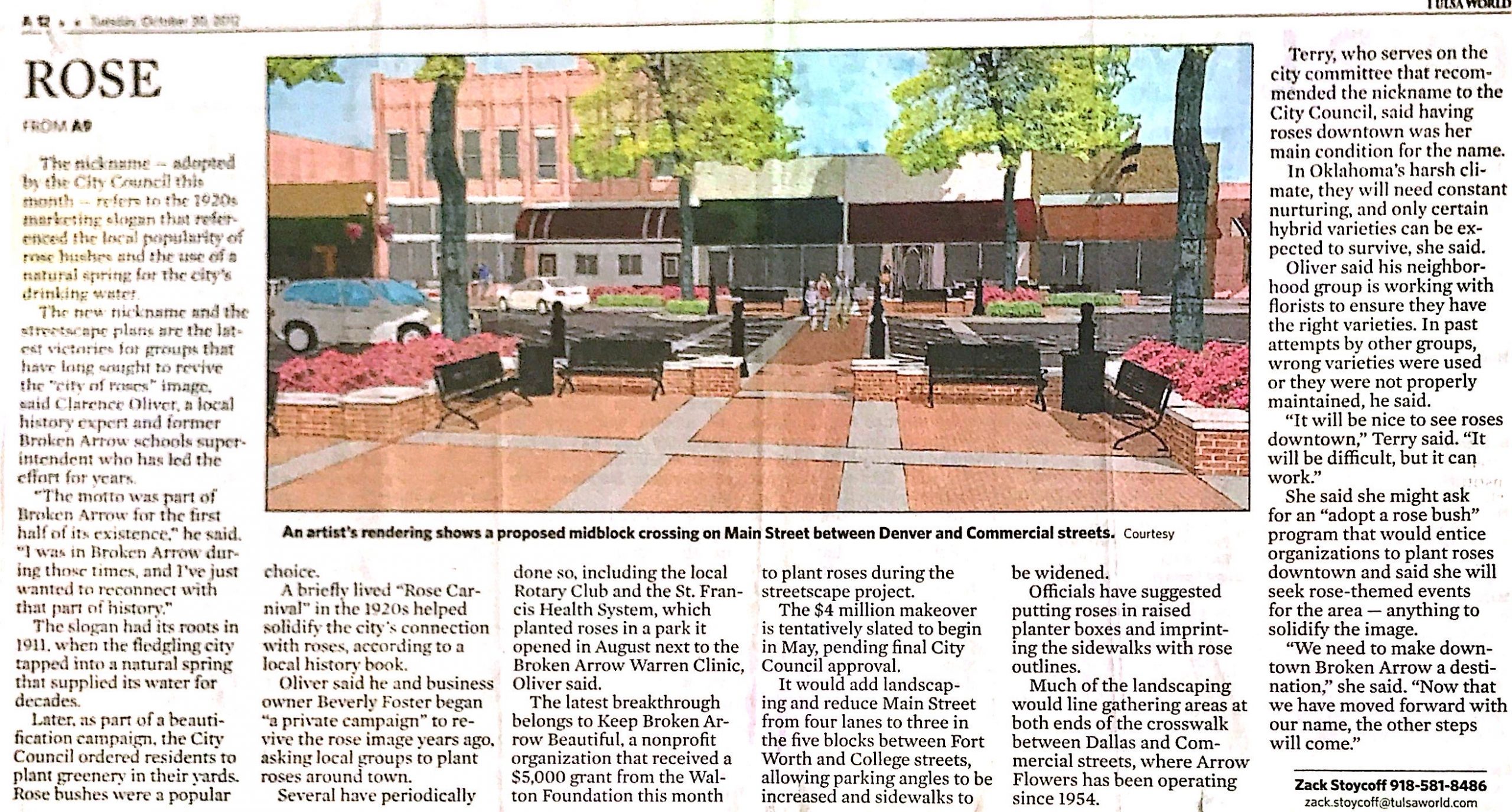 Karen Gardener, owner of Roses Inc Green Country brought her rose expertise and designed the rose planting.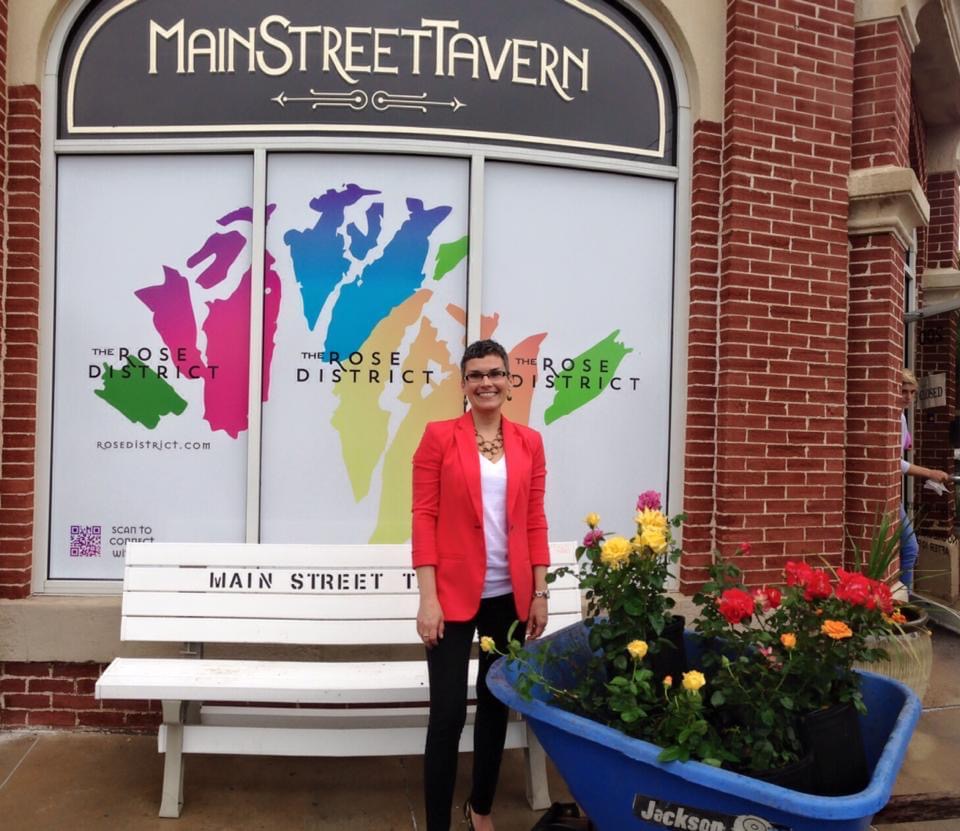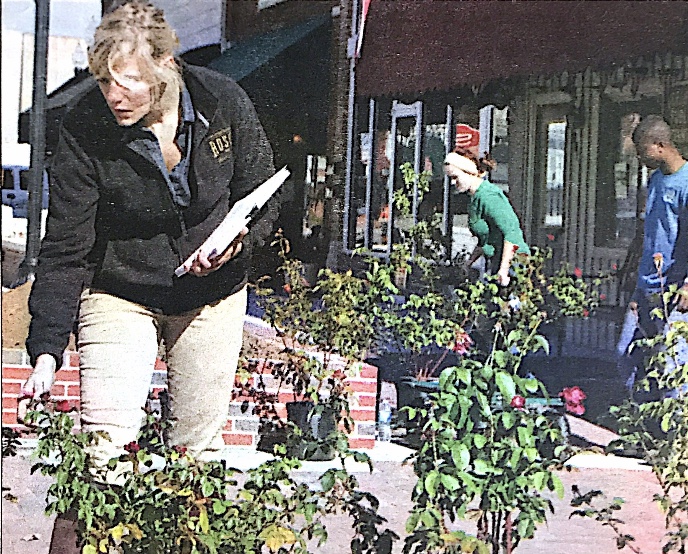 Jill Norman with first roses for the Rose District              Karen Gardner planting roses Nov 2014
The Rose District was dedicated on March 19, 2015. "We set out to create a space and environment that would not only attract visitors but would also pique interest from developers and potential new businesses," said Councilwoman Jill Norman.
Broken Arrow's Rose District has won numerous awards including "Most Romantic Downtown" and USA Today's "One of top 50 Most Charming Main Streets." Fall of 2021 will see the opening of the Creative Arts Center, adding to The Performing Arts Center completed in 2009, Rose District Plaza and Fountain 2016 and the many unique shops and restaurants.  The vision of a beautiful and unique Arts and Entertainment District had come to fruition.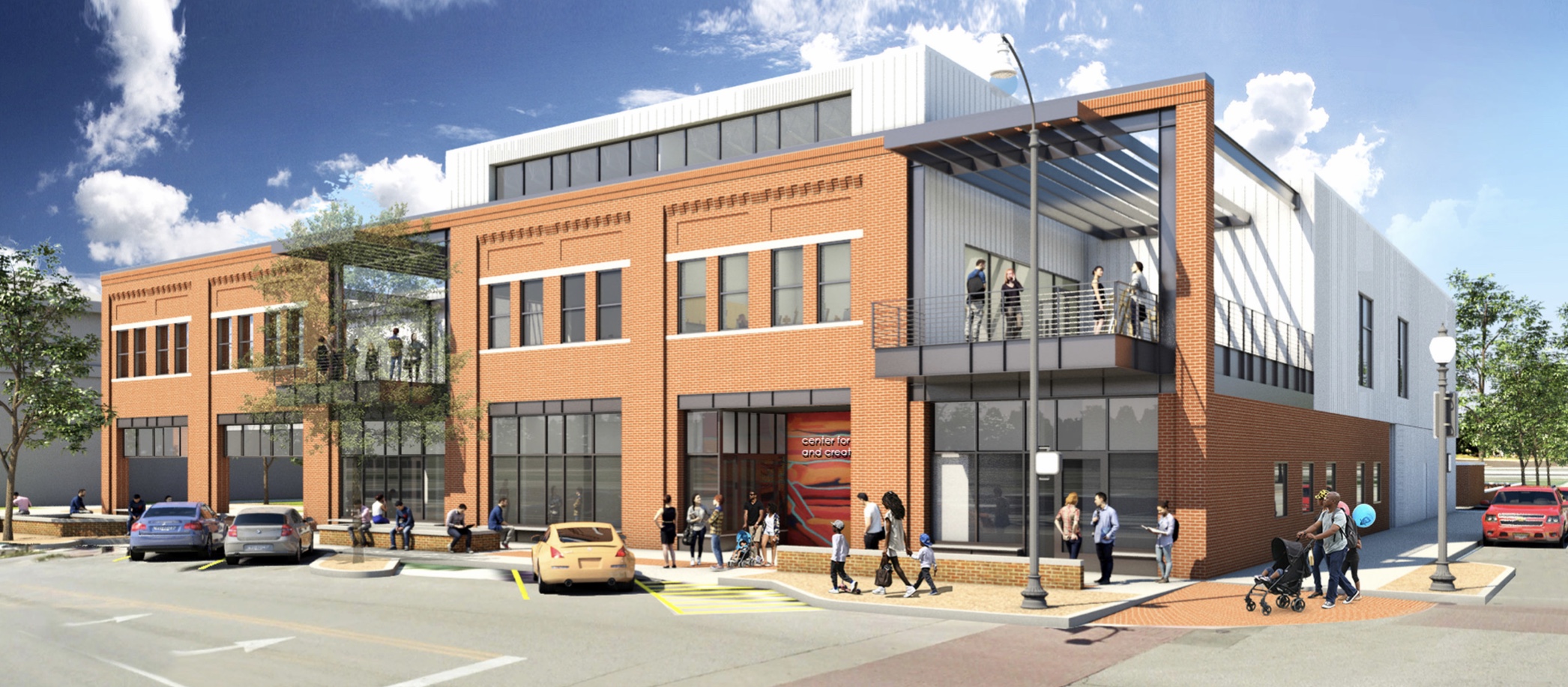 Creative Art Center
We owe so much to the many groups that created The Rose District:  The City of Broken Arrow and City Council, The Downtown Advisory Board, Economic Development Corp, The Broken Arrow Chamber of Commerce, Broken Arrow School District and the Broken Arrow Business community.
Bring Back the Roses and Downtown Advisory Board.    Both groups at work
Early 2011, with TIF funding available, Downtown Advisory Board moves forward with revitalization planning.      Bring Back the Roses Project begins.
 2012 Bring Back the Roses joins Keep Broken Arrow Beautiful and adds voice to naming of the Rose District.  City council chooses the name Rose District.
 2013 Work begins on Rose District,  BBTR plants13 roses at Centennial Park, first roses in Rose District.
May 2014, Bring Back the Roses holds first Rose Festival and Rose Gala.  Nov 2014, first roses planted in Main Street Streetscape.
2015 Jill Norman and Beverly Forester, Chair, BBTR, met with Jim Nelson leading to a $10,000 donation honoring his parents Jim and Peggy Nelson.  This provided funds for the design of the future Broken Arrow Rose Garden featured on our Rose Garden page.  The design was created by Robert Shears, landscape architect who also designed the streetscape for the Rose District.