A Broken Arrow Rose Story:
A tale of two groups of visionaries…Bring Back the Roses and the Downtown Advisory Board
Broken Arrow, like many small towns, over time suffered a decline of it's downtown area, becoming just another "bedroom community" in a metropolitan area. Broken Arrow needed a new vision, a new direction. Two groups, The Downtown Advisory Board and Bring Back the Roses would each seek to revitalize Broken Arrow. This week's blog: Bring Back the Roses It was Saturday, February 26, 2011 at Broken Arrow's Performing Arts Center, the premier of the "The History of Broken Arrow." Dr. Clarence Oliver had narrated the DVD which included "The City of Roses and Sparkling Spring Water." Beverly Forester and her husband, Bill, loved to travel and visit many festivals, such as the Muskogee Azalea Festival, Tyler Texas Rose Festival, The Tulip Festival in Holland, Michigan, and the Blue Bonnet Festivals in Texas. They knew what having a beautiful identity could mean to a city. The reception prompted Dr. Oliver and Beverly Forester to discuss Broken Arrow's history as The City of Roses. Would it be possible to bring back this beautiful part of our history? Wouldn't it be fun to try? They began meeting at Panera Bread and quickly recruited Mark Stelljes, rose expert and owner of Roses Inc. Dr. Oliver points out, "It all began with 2 cups of coffee and a napkin." Educating and exciting the community about roses was the first priority. They asked if citizens knew that Broken Arrow was once called The City of Roses and Sparkling Spring Waters. Not surprisingly, the majority answered no. Dr. Oliver shared the adventure with city leaders and civic groups, while Beverly met with downtown merchants and garden groups. There were business cards sharing the vision.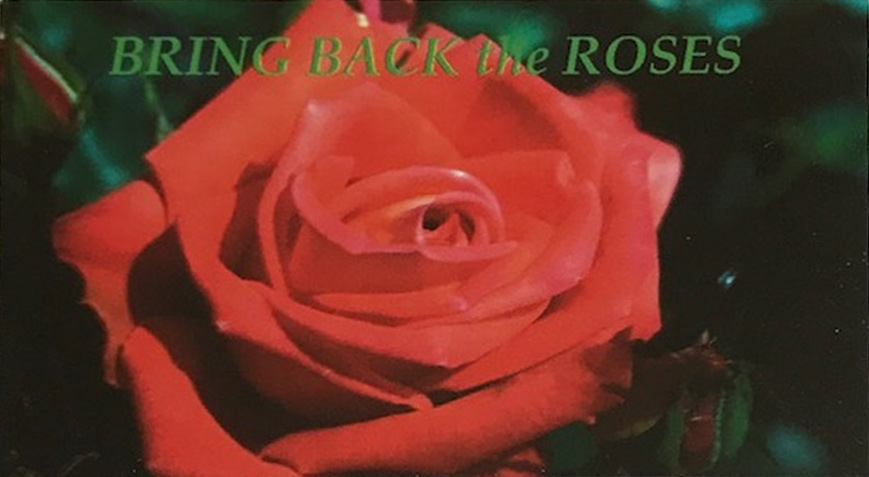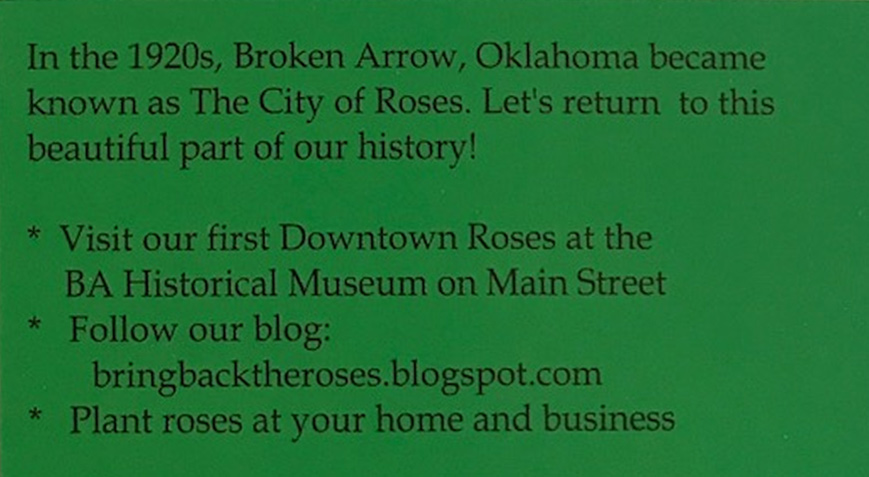 Beverly was in the 2011 Leadership Broken Arrow class. She says, "We each had to stand up and share our LBA project. I bravely stood up and told mine: To Bring Back the Roses. They probably thought I was insane!" The following year, Bring Back the Roses became a committee of Keep Broken Arrow Beautiful with Beverly Forester as Chair. The 5 year vision included: planting roses on Main Street, homes, & businesses; teaching rose maintenance; creating a city rose garden; and becoming a destination city. The committee brought together Master Gardeners, Tulsa Rose Society, civic and business leaders, and people passionate about our city, it's history and roses. Keep Broken Arrow Beautiful and committee members rallied for the revitalization of downtown to be named the Rose District. The Committee once declared "rabidly enthusiastic about roses" went to work. They planted roses!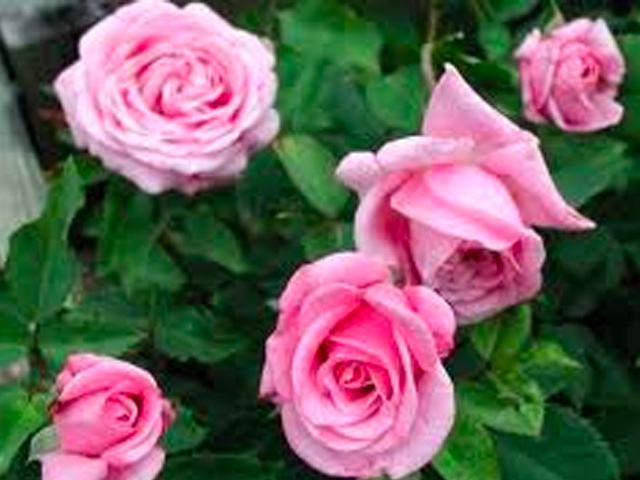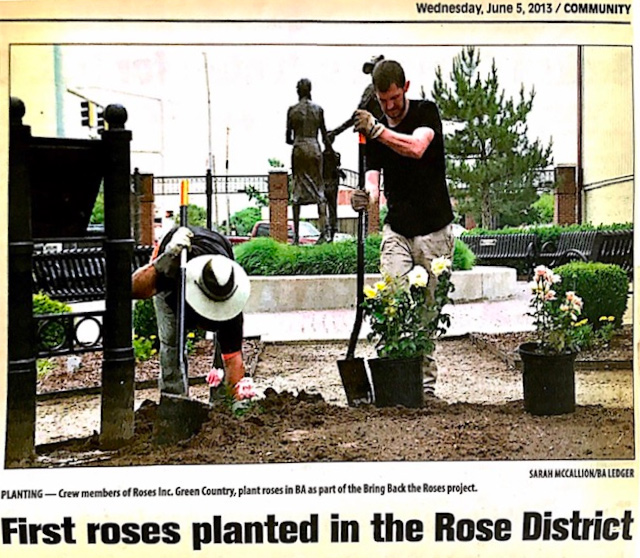 In 2014, the hard work and passion led the city to dedicate 6.5 acres in Central Park for Keep Broken Arrow Beautiful to design, build and maintain a Rose Garden.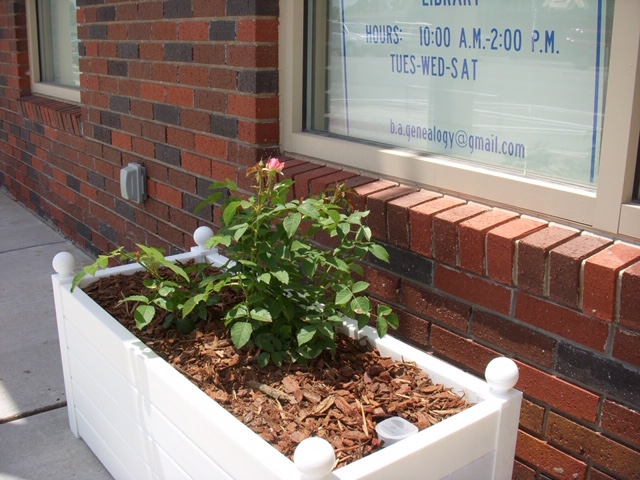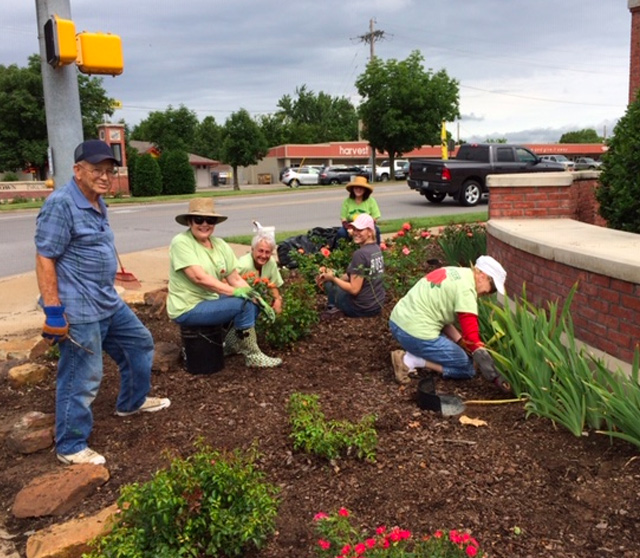 Partnered with the Iris Garden Club at Washington and Main Rose District entrances.
In 2014, the hard work and passion led the city to dedicate 6.5 acres in Central Park for Keep Broken Arrow Beautiful to design, build and maintain a Rose Garden.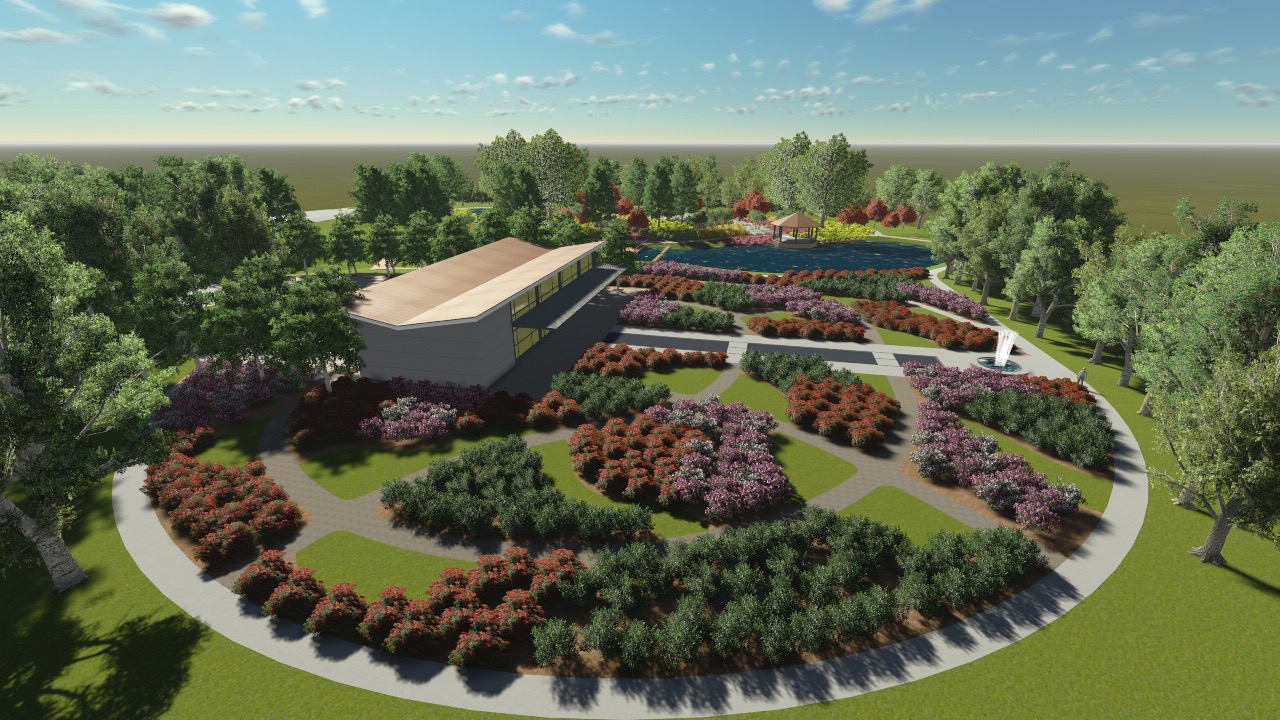 They built Rose Floats for Rooster Day Parade: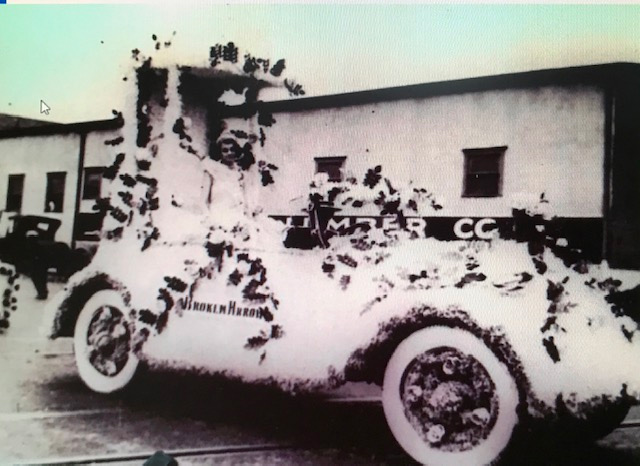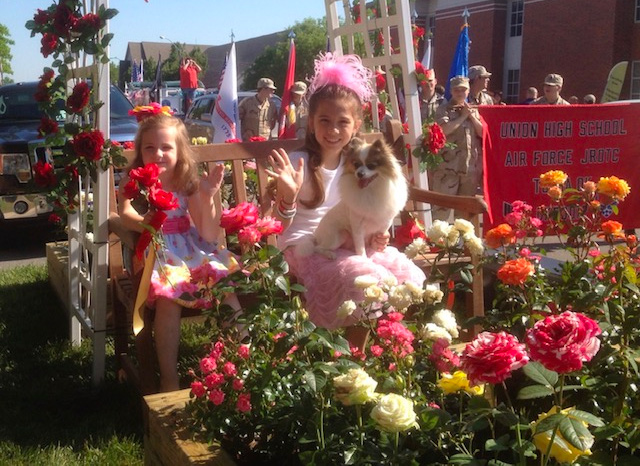 In 2014, the Rose Float won Best in Parade
They recreated the Rose Celebrations of the 1920's. May 17, 2014, Bring Back the Roses held the first Broken Arrow Rose Festival, Rose Show, and Rose Gala. It was almost 90 years to the day since the first Rose Carnival of 1924. The Rose Festival has become an annual event celebrating Broken Arrow's love for roses. The Rose Festival grew! In 2018, the Festival became a two day event with Sunday's Rose Kite's Over Broken Arrow.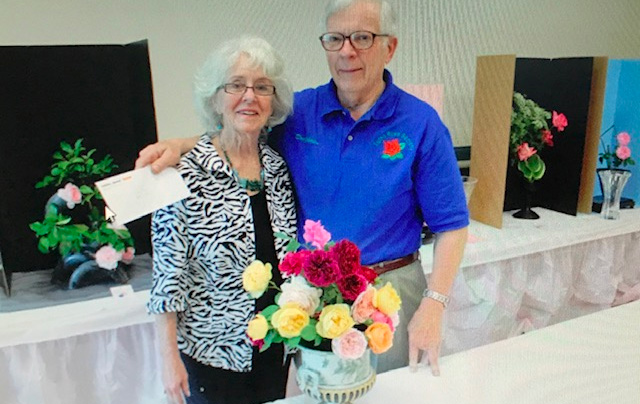 2014 Best Arrangement Winners: Don & Brenda Johnson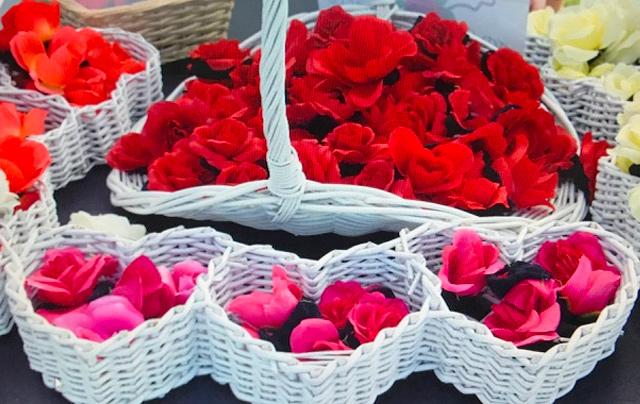 The Welcome Booth with thousands of free rose bracelets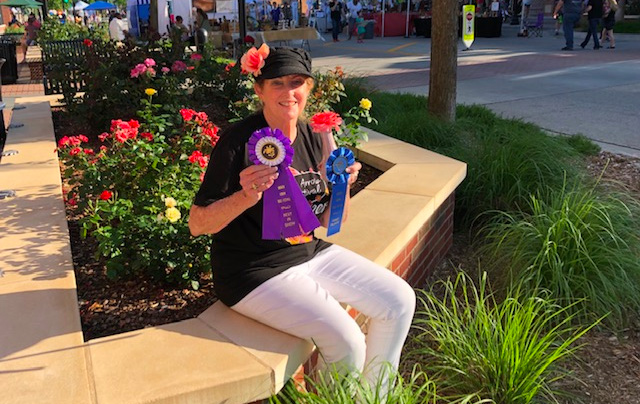 2019 Best In Show: Sandy Berensen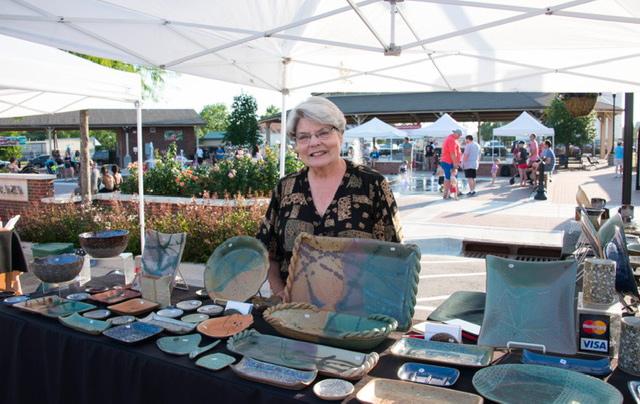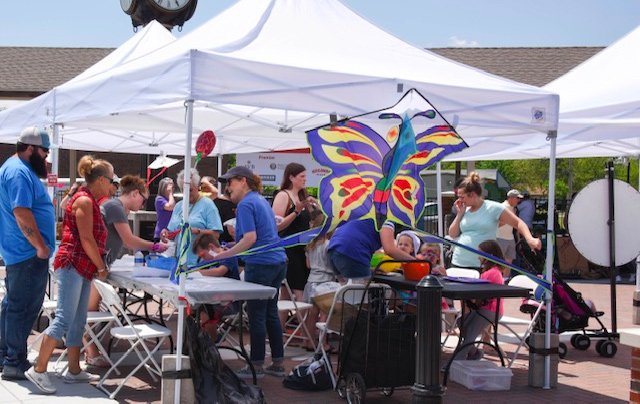 Kid's Zone: kite decorating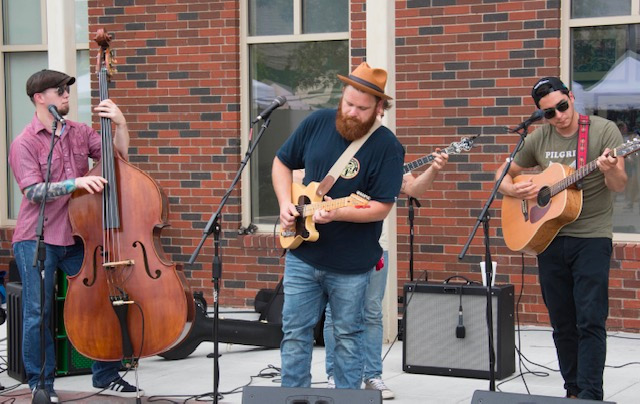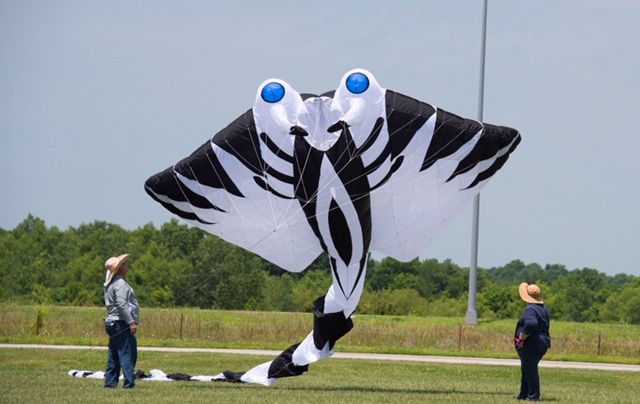 In 2019, the Committee partnered with Chalk It Up! By joining with this art festival, it created a full weekend of family friendly fun, becoming a destination event! Over 16,000 attended. The 7th annual Rose Festival, 2020, was postponed until Fall 2021, due to Covid-19.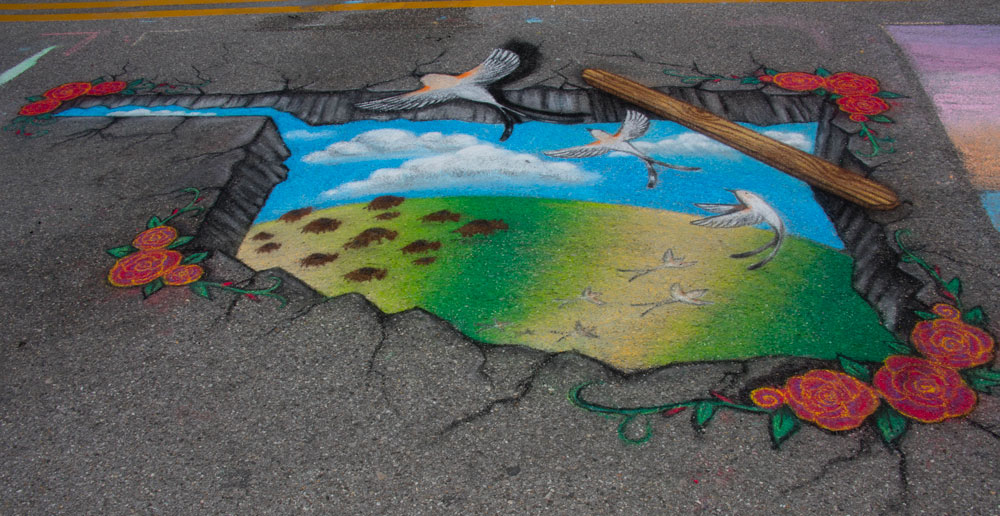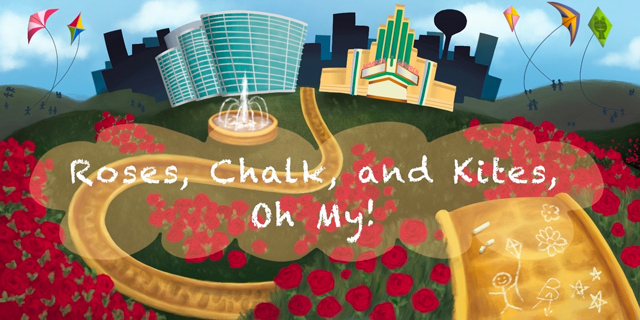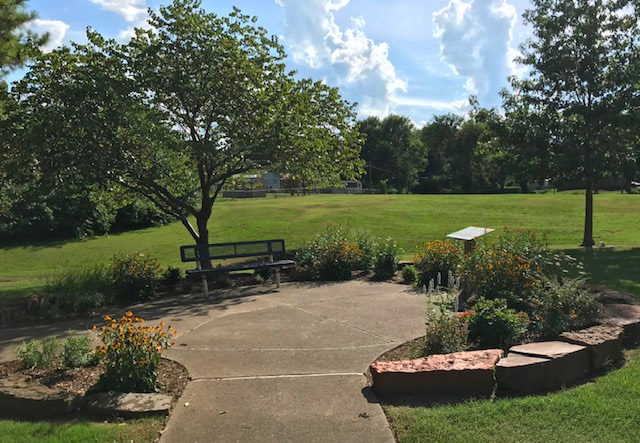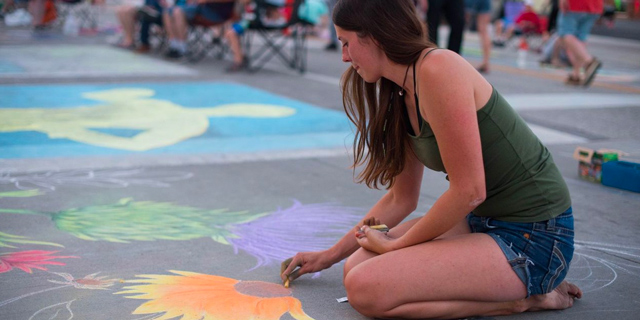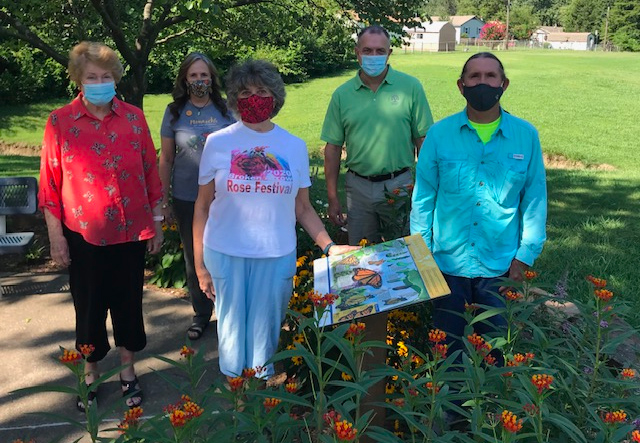 In 2018, with Broken Arrow's renewed passion for roses and a flourishing Rose District, Bring Back the Roses changed its name to simply The Rose Committee.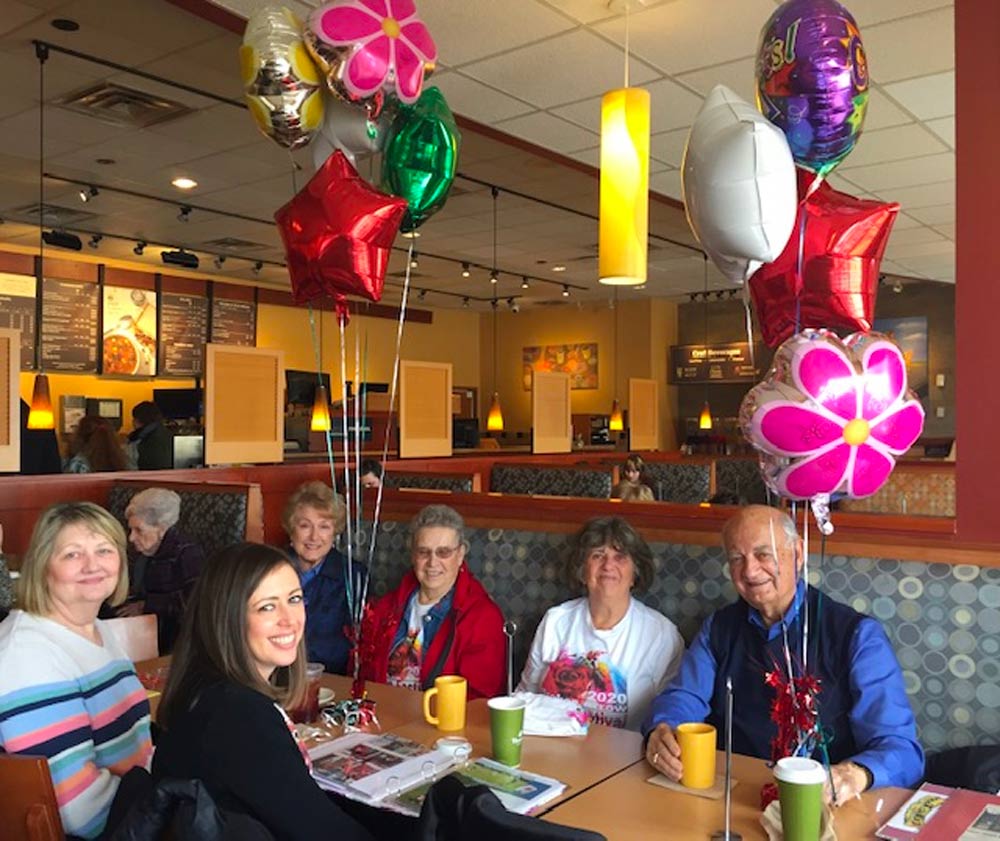 Members of the Committee celebrating the anniversary of Bring Back the Roses at Panera Bread, February 26, 2020. Nine years of faithful service to Broken Arrow.
The Rose Committee continues today with the mission to bring back the roses and become a destination city. We have such a strong, kind dedicated group of amazing people. We'd love for you to join us! Interested? Email Beverly Forester at bacityofroses@gmail.com. You may also text or call her at: (918) 630-7548. Watch for our next blog: Creating the Rose District, City Council's Downtown Advisory Board